Thank you Alameda Artists! "Alameda Strong" Campaign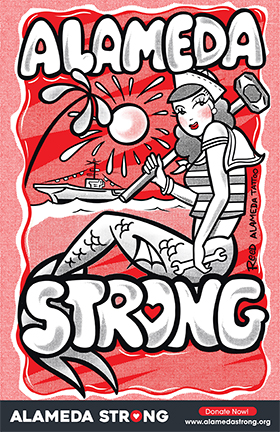 Submission deadline June 12th, 2020.
Thank you for participating in Alameda Strong and supporting your community! This project is on hold. If Alameda Strong requests for more art, we will let you know!
The City recently launched a new Alameda Strong Campaign to raise money for Alameda businesses, residents, and non-profits who make Alameda the truly awesome city that it is.
How Artists Can Help!
Alameda Strong is asking local artist's to create artwork for the Alameda Strong campaign. Donated artworks will be displayed on posters all around Alameda. The only thing we ask you to keep in mind is that the artwork should lift our spirits and unite our community.

Posters need to be "print ready". PDF format, 11×17. Submission deadline June 12th, 2020. Open to all bay area artists.
Download the PDF template. This file works best with Illustrator. You can drop your art into this template.
Download the Footer Template: Alternatively you can add this footer to your art. Just be sure you specs are correct.

Print Ready: Created with appropriate specs, all art for print should be 300dpi CMYK. Size should be scaled to no smaller than 8×11 for print.

Please submit your print ready artwork to by June 12th.
Thank you for supporting your community. If you need help making sure your files are print ready and in the correct format, you can email questions to . I can not guarantee that I will be able to respond in a timely manner.
Get inspired, see some designs that have already been accepted. alamedastrong.org/art-posters
**Alameda Strong is a all volunteer non-profit community movement. There is no compensation. By submitting this artwork you are allowing anyone to print and display the artwork for non commercial use. You maintain copyright ownership of the artwork.

To help get your creative juices flowing, take a look at the San Francisco Campaign posters.
The goal of Alameda Strong is to raise over $1 million for grants that can help our local businesses and others recover from the devastating impacts of COVID-19. If you are in a position to do so, please help fund the emergency relief grants by making a tax-deductible donation to the "Alameda Strong" community fund today.
Donate Now! alamedastrong.org/#donate
Please help get the word out about this campaign — the grant is dependent on community donations.
More information about the Alameda Strong Community Grant Fund is available here: www.alamedastrong.org
(Donations can also be submitted by check. Make the check payable to: "Alameda Strong Fund" and mail it to: East Bay Community Foundation; Attn: Alameda Strong Fund; 200 Frank Ogawa Plaza; Oakland CA 94612)