Scroll down to read in more detail what ArtPush has been up to in 2023 or for a quick summary, just click the link or thumbnail below. Contribute to our End Of The Year Fundraiser! DONATE NOW!
View/Print A Year In Review 2023 Pdf Quick Overview This .pdf may take a few moments to download.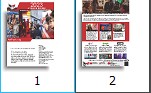 ArtPush 2023 Community Art Programs, Events & Sponsorships. ArtPush exists to promote and support the arts and artists through programs and events that enhance and strengthen the community.
ArtPush is made up of East Bay board & committee members, all of whom identify as artists living in the Bay Area.
Thank you, 3 Dot Art Gallery aka Sara Edge & Dave Sylvester, The Red Door's Yolanda Cotton Turner & Red Door supporter, Sandy Russel, Studio 23 Galleries Weseley Warren & Jessica Warren, Cheryl Harawitz, May M. Lo & committee member Victor Mavedzenge.
PROGRAMS
* Junior Spotlight
The Junior Art Program invites Junior artists to apply to be a part of Studio 23 Gallery's group shows: This year we would like to feature two of those artists here.
Featured Junior Artists:
Olivia Wadler aka Livvy, age 15
Olivia, who attends Encinal High School, has shown and sold work in several Studio 23 Gallery Group Art Shows. Here we feature her work in the 100 Under 100 Group Art Show. Her subject, "Feebiea". Olivia and her mother, (also a local artist) brought a new member into their home this past year, Feebiea. Feebiea is a rescue from San Francisco. Despite suffering from Cleft Lip Syndrome, . Olivia has been coming to the gallery for about 10 years and we have all watched her grow into the very talented artist she is today.
Savannah Reynosa, 15
Savannah Reynosa, who recently moved to Alameda with her father attends Encinal High School. Savannah entered her first show with us, The BlackLight Art Show. Her piece titled "Medicine" displays a pill bottle tossed aside in an empty lot. The grass and weeds are growing in and around the bottle, implying some time has passed. City buildings painted in the same moody blue-indigo tone as the sky can be seen off at a distance. The special fluorescent acrylic paints purchased at Flax Art & Design in Oakland are UV reactive. The sides of the work are painted bright orange, giving a luminate pink or sometimes orange glow on the wall surrounding the work. Savannah sold this piece in her very first art show. Savannah has also volunteered at several ArtPush events, including the Creative Art Program.
---
---
The Future Is Female: http://www.creativeartprogram.org
This was CAP'S 3rd year of putting on The Creative Art Program thanks to the California Arts Council. With a goal of introducing kids to art as a way to envision a better future, local East Bay artists and Girls Inc. of the Island City came together for an art workshop at Studio 23 Gallery. 15 local artists & volunteers work hands on with 25 students. The participants, their families and the artists are invited back the following week for the opening reception, bringing over 100 guests out to the gallery. Art supplies and equipment were purchased from Flax Art & Design, Oakland. ArtPush, designed and created over 25 wooden table-top easels, made at The Fab Lab at the College of Alameda.
---
* Alameda Art Rotation featuring East Bay Artists at: Fireside Lounge, Alameda Island Brewing Company & Studio 23. ArtPush works with both artists and business owners. We coordinate schedules, provide application forms, website information & requirements & promote shows.
In 2023 over 200 artists (including several group shows) were able to show & sell their art in Alameda. https://www.alamedaartists.com/

Jan/Feb 2023 Artist https://www.newmanesque.ne at Alameda Island Brewing Company.
---
* East Bay Artist's on Digifli https://digifli.com/web/artist-sponsorship
ArtPush partners with Digifli to provide free advertising for select local artists to get their work in front of the community.
In 2023 we created and have shown over 75 local artist screens from all over the East Bay. https://digifli.com/web/artist-sponsorship
Below are some examples of screens,
Top of page from left to right, Malik Senefu, Victor Mavedzenge, Cluster of multiple screens showing work from Maddie Aub, Steven Yu & Judith Threadgill
Screen shown inside local business, Island Exotics : Artwork displayed by Dave Sylvester
---
2023 EVENTS

Featured Event
* Alameda Summer Art Fair & Maker Market https://www.alamedaartfair.com/press/
Below: Artist and musician Zoë Boston performs at the art fair.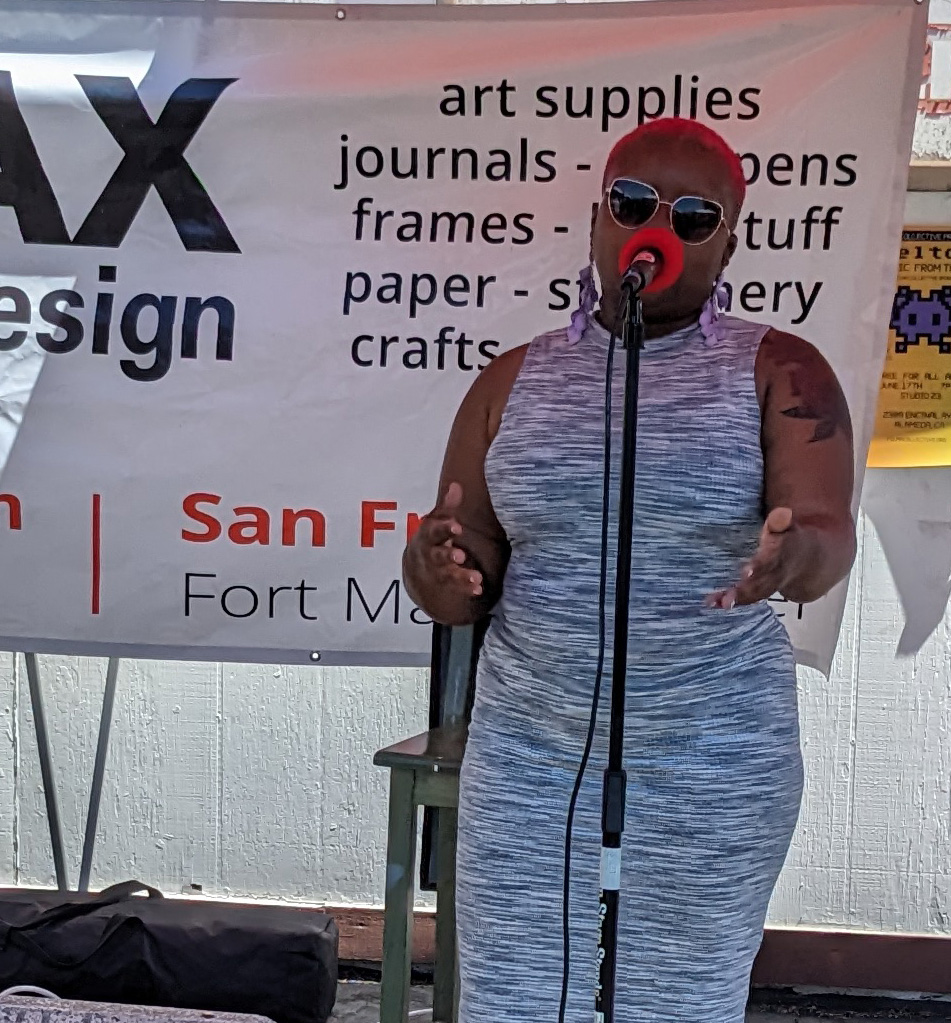 ArtPush puts on the free Alameda Art Fair and Maker Market bringing over 100 diverse Bay Area artists, vendors and local businesses together with the greater community. Artists are encouraged to create artwork during the fair, so the attendees can see artists in action. This helps support a vibrant and creative community.
In 2023 we had over 75 vendors, 30 live art demos, live music featuring 5 local bands, live poetry from Alameda Island Poets along with local entertainment performers. Open Studios at the event included "The Red Door On Encinal", "3 DOT" and Studio 23 showing over 75 local artist's. Discounted rates are provided to artists requiring financial aid and several nonprofit spaces are given space 100% free. This event brings roughly 800 patrons from all over the Bay Area.
* Red Door Collective: Friday Open Studios
* 100 Under 100 Group Art Show
* East Bay Artist's Art Book Live Exhibit & Studio 23 Gallery 10 Year anniversary Show.
* Pretty Frankenstein's Falloween Fest
* Filma Art Collective: PF 3000 Fundraiser
* Studio 23 BlackLight Art Show
---
ARTIST SPONSORSHIPS & PARTNERS
Featured Sponsorship
* Filma Art Collective: PF 3000 an interactive LED sculpture.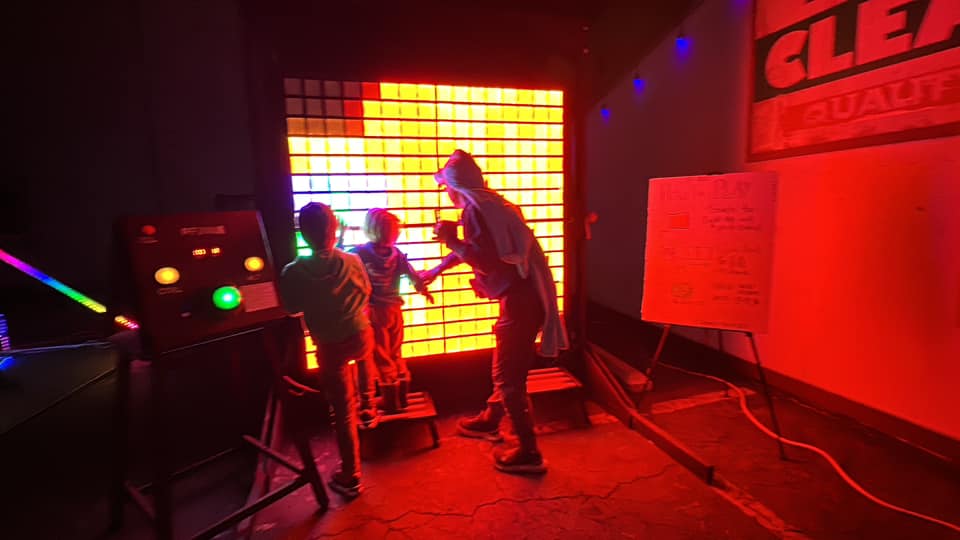 This year ArtPush fiscally sponsored several local artists and worked with new nonprofits in support of artists. One of the sponsored art projects was Filma Art Collective's "The PF3000". &
A fundraising event with a live demo was held at Studio 23 Gallery over 2023.
Learn More: https://filmacollective.org/pf3000/ & help support this amazing group of makers & artists!
* Oakland Puzzles Fundraiser: Benefiting artists Vera Tour, DeAnna Tibbs & Jeni Paltiel aka Lellobird
* Paige Tashner Trust Fundraiser: PurPods
If Studio 23 or ArtPush has touched your life over the last 10 years, show us some love.
Your contribution will make an impact, whether you donate $5 or $500. Every little bit helps keep our programs & events happening.
---
Show us some love. Contribute to our End Of The Year Fundraiser! DONATE NOW!
For those who do not use Facebook please visit our donation page for other ways to contribute.